Adelaide: Royston Park SA
Cosmetic Lip Tattoo is designed to suit you – the individual
Cosmetic lip tattoo styles include; Lip Blush/Ombre Lip/ Lip line & Blend
This semi-permanent lip makeup technique can redefine your Lip border and create fullness and symmetry.
Females and Males can lose the natural colour in the vermillion lip borders over time.
Lip Fillers can also cause loss of colour, with the individual chasing a defined border from the filler which will simply not be seen properly without replacing the lost colour too. If you are looking for a fuller lip with a defined border, a combination of lip fillers and cosmetic lip tattoo is your best choice.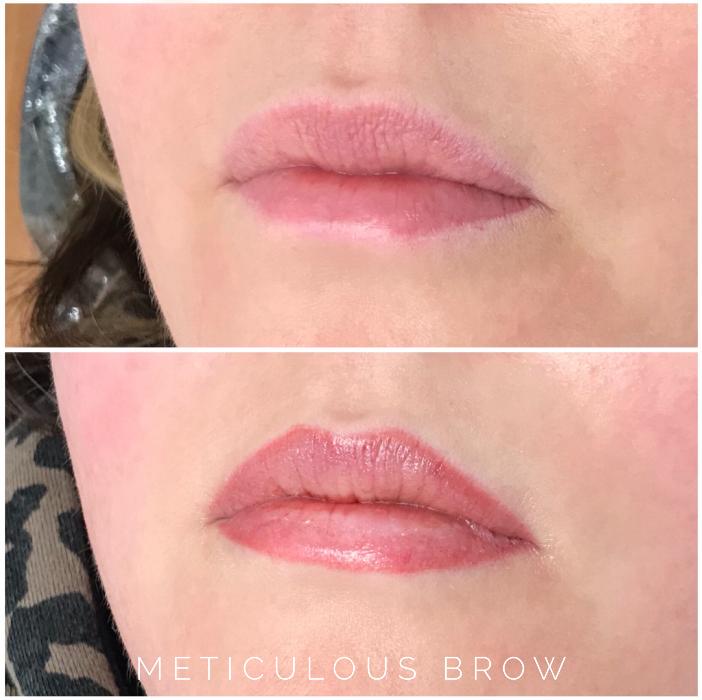 Lip Blush
You may choose to have a 'Lip Blush' treatment where your end result is much the same as a lip tint or you might request a solid and opaque colour more like a lipstick effect. A Natural Lip Effect is extremely popular, where the result is very natural and not obvious that there is a tattoo present. The Lip Blush Tattoo is usually styled with a soft border making it a great choice for a male lip tattoo.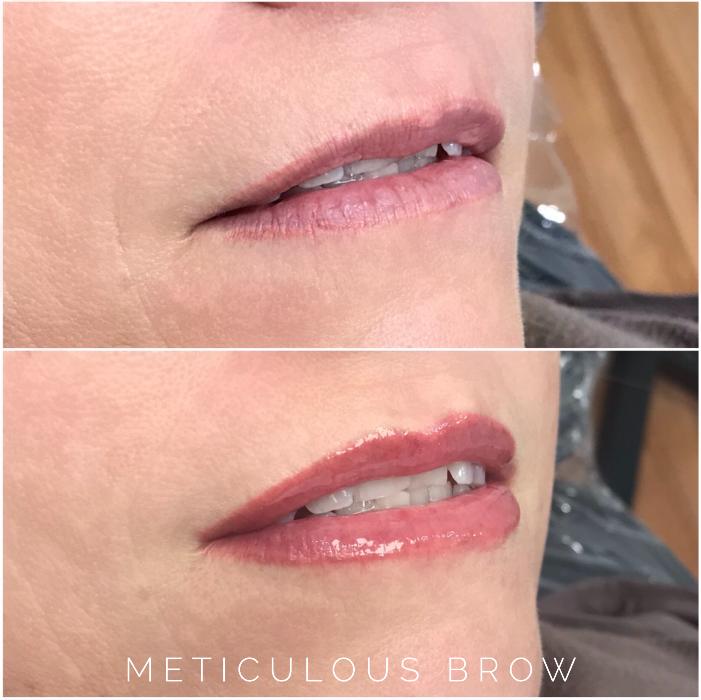 Lip Liner Tattoo
If you have a previous Lip Liner Tattoo, you may wish to have the inner section of the lip tattooed also, to blend the colour through resulting in a more natural look or alternatively a solid lipstick effect.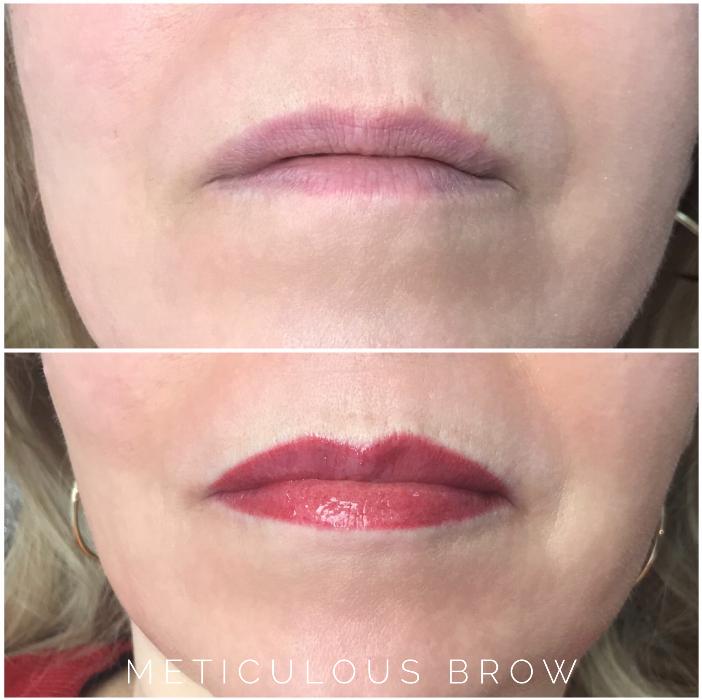 Semi-Permanent Lipstick Tattoo
If your someone who loves colour, but hates applying lipstick all day then you might request a solid and opaque colour.
Each style will comprise of a 2 step process – Initial Treatment and 6 week Touch Up.
The initial treatment lays the foundation, we choose the colour and style best suited for you. Then the Touch Up is where all the magic happens, we can now clearly see your healed results which give us the opportunity to perfect the colour choice, shape and symmetry.
Cosmetic Lip tattoo can help individuals with the following:
Bleeding lipstick due to age lines
Scars from cold sores or accidents
Uneven lip shape
Asymmetrical lips
Fuller Lips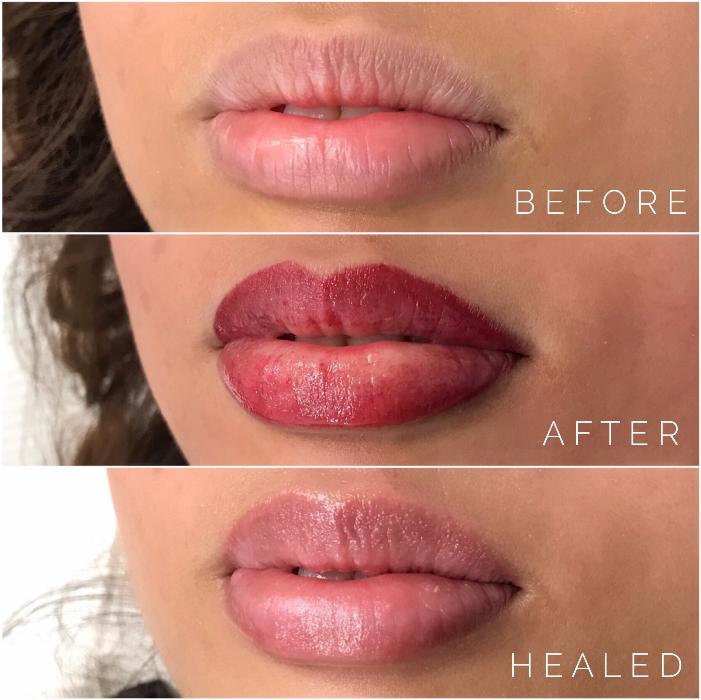 Gloss and go, Lip perfection!
Cosmetic Lip Tattoo Cost
Initial Treatment: $399
Touch Up at 4-6 weeks: $199
A second Touch up is not often required, but if you decide you would like a perfection visit the price of $199 is valid up to 6 months.
Maintenance visits are recommended between 12-24 months. This will vary for each individual, all skins respond differently to treatment and some will retain pigment longer than others.
Lip Tattoo Refresh 6 months – 24 months: $249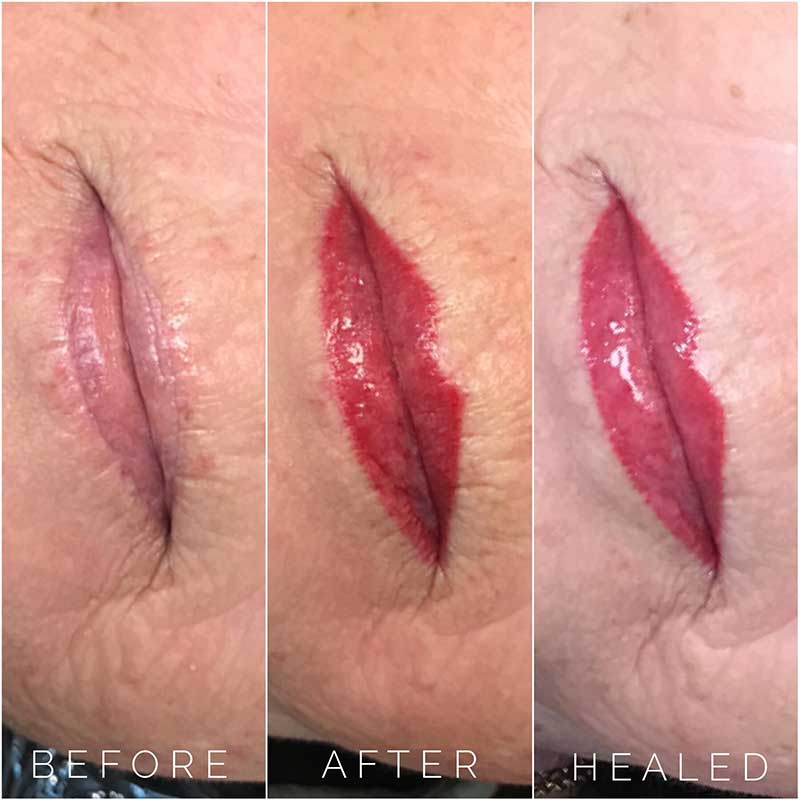 Can I have lip Tattoo if I suffer from cold sores?
Yes, however it is recommended to take an anti-viral medication which can be purchased over the counter at the pharmacy. If you suffer from cold sores frequently, we suggest seeing your doctor for a stronger prescription.
Is a cosmetic lip tattoo treatment painful?
While every individual has different a pain threshold, most are very comfortable, some even falling asleep during treatment! New techniques, topical anaesthetics, and the highest quality machines and needles make the process a breeze. Please don't worry if your pain threshold is low, as I will work with you every step of the way to ensure you are as comfortable as possible.
What it the cosmetic lip tattoo healing process?
Aftercare is carried out for 7 days post treatment, but the initial healing phase for lips is only 4-5 days.
Is there much swelling involved?
All skins react differently, but not usually. Day 1, minimal swelling is present – you can apply ice, to relieve pain and reduce swelling. Day 2, swelling has usually subsided, and you have a fantastic lipstick look.
Will I look ok to go out in public while healing?
If you choose a natural looking colour, absolutely! If you choose a brighter colour, sometimes when the top layer sheds on day 3-4 they can look like the colour is peeling off. Most people are ok with this and continue life as normal.
How do I prepare for my Cosmetic Lip Tattoo?
Dermal filler treatments must be a minimum of 4 weeks prior
It is recommended to start a course of Lysine tablets 1 month prior if you experience cold sores
Do not have any of the following treatments 14 days prior to treatment– IPL, Laser, chemical peel, micro-dermabrasion, anti-wrinkle injections
Stop taking any type of blood thinners; fish oil, vitamin E, asprin, nurofen etc.. 3 days prior
Avoid the sun, as area must not be sunburnt, dry or chapped on the day of treatment
Avoid drugs or alcohol 2 days prior
Breast-feeding clients cannot breast feed 48 hours post treatment