Please allow up to 24hrs for a response.
Thank you for your patience.
Your Eyebrows are the foundation to your face and frame a beautiful feature – your eyes. We can help you achieve symmetrical and fuller eyebrows. Every treatment includes a thorough consultation where your eyebrows are measured according to your bone structure, drawn and designed to suit your face.
Every Cosmetic Tattoo comprises of an initial treatment, followed by a touch up visit within 4-6 weeks. Refresh or maintenance visits are then required usually once a year depending on your skin type, lifestyle and desired results. Please keep in mind that most photos are taken directly after treatment, brows fade and soften by 30-50% once healed depending on your skin type.
Eyebrow tattoo is suitable for both men and women that may have:
Sparse or no eyebrows
Over plucked eyebrows
Patchy or asymmetrical eyebrows
Alopecia
Pigments are chosen and customised to suit your skin tone, natural brow hair colour and your personal preference.
Your new brows can be as soft and subtle as you like or alternatively as defined and bold as you like.
Schedule a free consultation to meet Tammie so she can give you all the information your need to feel at ease about your treatment.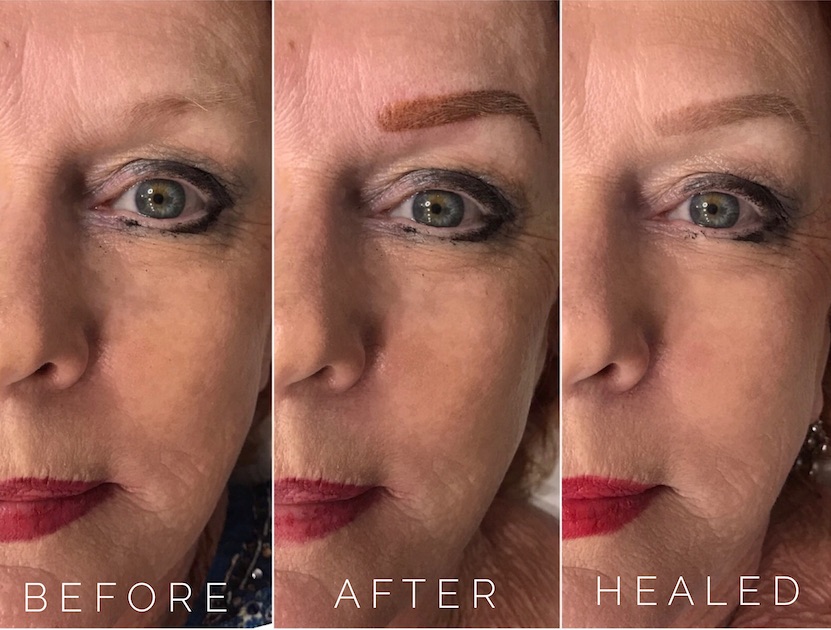 Feather Stroke Eyebrows/ Microblading/ Eyebrow Feathering
Initial Treatment: $299  
Touch Up at 4-6 weeks: $149
This Semi-Permanent Make up technique recreates the look of natural hairs within the eyebrow, perfect for those with existing eyebrow hair to fill in gaps throughout the brow. This is a great option for those who wear little to no make-up on a daily basis. 
Ombré Powder Eyebrows
Initial Treatment: $299  
Touch Up at 4-6 weeks: $149
Today's Powder Brows are nothing like the old block eyebrow tattoo, using advanced techniques, pigments and equipment we can now achieve soft and natural eyebrows for every individual. If you currently pencil or powder in your eyebrows, this treatment is perfect for you.
 (see example photo above) 
Combination Brows/ 3D Hybrid Brows
 Initial Treatment: $299  
Touch Up at 4-6 weeks: $149
Combining both Feathers and Powder for a more creative style. 
You may also wish to have feathers through the front of the brow and powder through the arches and the ends. We will design the brow so it best suits you.
Eyebrow Tattoo Corrections
Initial Treatment: $299   
Touch Up at 4-6 weeks: $149
If you have a previous eyebrow tattoo that needs correcting, there is a chance we may need to look at referring you for a removal treatment first. Depending on the condition of your skin and the amount of pigment remaining, we may be able to correct the brow with a skilled corrective treatment. Please book a complimentary consultation to find out what we can do to help you correct your eyebrows.
Cosmetic Lip Tattoo/ Lip Blush/Ombre Lip
Initial Treatment: $399  
Touch Up at 4-6 weeks: $199
This semi-permanent makeup technique can redefine your Lip border, create fullness and symmetry, replace lost colour.
You can choose to have a 'Lip Blush' treatment where your end result is much the same as a lip tint or you can request a more solid and opaque colour more like lipstick.
Gloss and go, Lip perfection!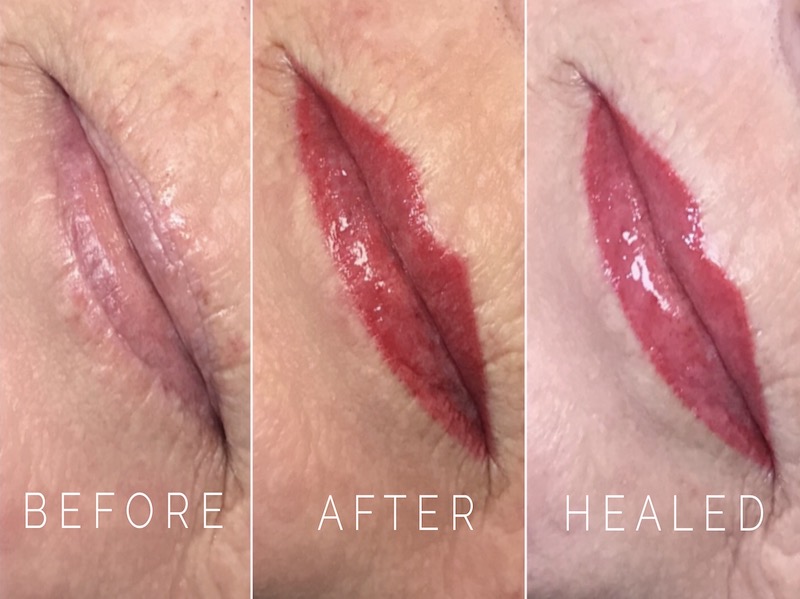 Cosmetic Tattoo/ Smokey Eyeliner/Eyelash Enhancement
Eyelash Enhancements will highlight your eyes, creating a subtle frame and a barely there look that will make your eyes pop!
Pigment is placed throughout the lashes to create a defined, yet natural eyeliner.
For those of you that want a little more, consider Designer Eyeliner
Smokey Eyeliner, Shaded Eyeliner, Wedge or a Winged Eyeliner, are all elegant statements that can still be worn daily and enhanced at night.
Together, we will design a look that you love to suit your eye shape and ensure it will age elegantly over time.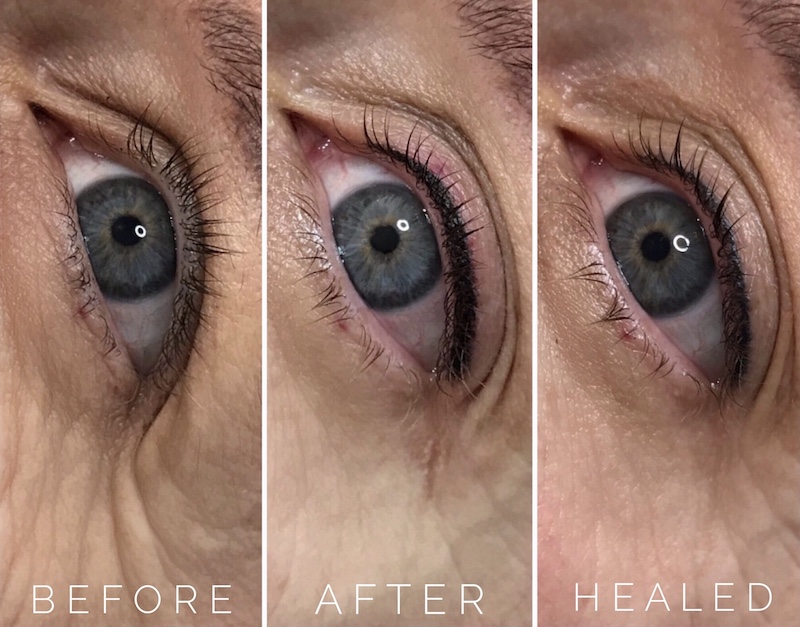 Lower Eyelash Enhancement
Initial Treatment: $249  
4-6 week Touch Up: $149

Upper Eyelash Enhancement
Initial Treatment: $299
4-6 week Touch Up: $149

Upper & Lower Eyelash Enhancement
Initial Treatment: $399
4-6 week Touch Up: $199

Designer Eyeliner Smokey/Shaded/Wing
 Initial Treatment: $399
4-6 week Touch Up: $199
Am I eligible for Cosmetic Tattoo?
Unfortunately you are not eligible if any of the following apply to you:
HIV/AIDS
Hepatitis A, B, C
Organ Transplant 
Lupus
You must be over the age of 18, even if you have parental consent
Acne prescription drugs within the last 12 months
Eczema or Psoriasis on the Face
Glaucoma – Eyeliner Treatments
Pregnant
Keloid Scarring
Facial surgery (including skin cancer removal) within the last 3 months
Chemotherapy within 3-6 months
General anaesthetic or antibiotic treatment in the last 2 weeks
Will I need my Doctors Consent?
We will request written consent from your doctor if you have any of the following conditions: 
Diabetes 
Heart conditions/Pacemaker

Cancer

/Chemotherapy
Haemophilia
High blood pressure
Epilepsy
Auto immune/Liver diseases
Any allergies we recommend a test patch
Tell me more about the pigments used for cosmetic tattoo...
The pigments we use are manufactured in the US, they are of the highest quality ingredients, gamma-ray sterilized, vegan and cruelty- free.
They are blend of inorganic and organic pigments, containing NO heavy metals.
They will not fade to a different colour, only lighten over time.
The fade rate is different for everyone and will depend on your skin type and lifestyle. On average they last 1.5 – 3 years.
How do I prepare for my Cosmetic Tattoo?
All Cosmetic Tattoo Treatments:
Do not have any of the following treatments 14 days prior – IPL, Laser, chemical peel, micro-dermabrasion, anti-wrinkle injections
Stop taking any type of blood thinners; fish oil, vitamin E, asprin, nurofen etc.. 3 days prior
Avoid the sun, as area must not be sunburnt on the day of treatment
Avoid drugs or alcohol 2 days prior
You may want to wash your hair prior to the treatment, as the tattooed area must be kept out of water for 10 days.
Breast-feeding clients cannot breast feed 48 hours post treatment
Eyebrow Treatments:
Anti-Wrinkle Injections 14 days prior 
Eyebrow wax or tint – 7 days prior (we will shape your natural brows on the day)
Lip Treatments:
Dermal fillers – 4 weeks prior
It is recommended to start a course of Lysine tablets 1 month prior if you experience cold sores
Eyeliner Treatments:
Lash Extensions removed 2-3 weeks prior
Eyelash lift or tint – 7 days prior
Lash growth serums – stopped 1 month prior to treatment
What is your Aftercare Procedure?
You will be provided with aftercare instructions and a healing balm, which is applied 3 times daily for 10 days.
The Tattoo area must be kept out of water and no makeup worn on the area.
DO NOT touch the tattoo area, pick at or remove any scabbing.
Allow the scabbing to fall off naturally.
Is the treatment Painful?
While every individual has different a pain threshold, most are very comfortable, some even falling asleep during treatment!
New techniques, topical anaesthetics, and the highest quality machines and needles make the process a breeze.
Please don't worry if your pain threshold is low, as I will work with you every step of the way to ensure you are as comfortable as possible. 
I have seen another Cometic Tattoo Artist, can you do my Touch-up?
Short answer – Yes.
However with many different pigments on the market and lots of different techniques used today, it's not always possible to touch-up another artists work. The touch-up can sometimes become a cover-up or correction.
Book a free consultation to discuss your options.